Swedish Massage | Deep Tissue Massage | Medical Massage |Neuromuscular Massage | Prenatal Massage | Myofascial Release
At Healing Touch Charlotte, Inc. professional massage therapists offer Prenatal Massage for expecting mothers.
What Is Prenatal Massage?
Prenatal Massage is designed to relax tense muscles and relieve pain associated with pregnancy to make a pregnant woman feel good. Prenatal Massage varies in technique according to the needs of expectant mothers and their changing bodies. During a prenatal massage, mild pressure is applied to the muscle groups to relax muscle tension and enhance lymphatic and blood circulation.
Ancient Egyptian, Greek and many far eastern civilizations used traditional massage during pregnancy to relieve unpleasant symptoms and discomforts. Swedish physician Per Henrik Ling in the late 1700s developed the Swedish massage technique that is now used as a basis for Pregnancy massage.
In the U.S., Prenatal Massage has been growing in popularity due to its ability to balance hormone regulation, reduce stress, and improve labor outcomes and baby health.
Does Prenatal Massage Suit You and Your Baby?
It's always best to ask your doctor before getting any massage during pregnancy.  If you are suffering from low back pain or neck pain, sciatica or carpal tunnel or leg cramps, massage therapy can help to reduce or alleviate these symptoms.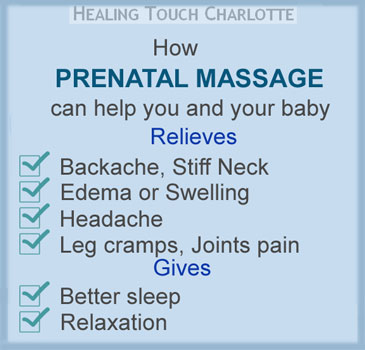 If your doctor says "Yes" to Prenatal Massage, you can expect relief for the common discomforts following pregnancy:
Backaches
Stiff neck
Leg cramps
Headaches
Edema (Swelling)
Benefits of Prenatal Massage
Relaxes muscle tension
Enhances sleep
Balances hormones
Precautions for Prenatal Massage
The following conditions are reason to avoid massage during pregnancy:
High risk pregnancy
High blood pressure
Pre-eclampsia
Pre-term contractions
Previous pre-term labor
Severe swelling
Severe headache
The best position for a pregnant woman during Prenatal Massage
Most massage therapists advise the best position for a pregnant woman during a prenatal massage is to lie on her side using specially designed pillows. Some massage practitioners use a pregnancy massage table that provides a hole for the belly but this position can be uncomfortable because of some pressure still applied.
Why Pregnancy Massage at Healing Touch Charlotte?
Massage therapists at Healing Touch Charlotte are experienced and trained to provide Prenatal Massage for expectant mothers. You can choose a male or female massage therapist according to your personal feeling.
How To Get Prenatal Massage at Healing Touch Charlotte?
We are happy to see you Monday – Friday 9:00 am – 8:00 pm.
Please give us a call at (704) 996-1460 or click

to schedule you appointment
Prices for Prenatal Massage at Healing Touch Charlotte massage center
1/2 hour – $50
1 hour – $90
1 1/2 hour – $125