Swedish Massage | Deep Tissue Massage | Medical Massage |Neuromuscular Massage | Prenatal Massage | Myofascial Release
Professional massage therapists at Healing Touch Charlotte practice Neuromuscular Massage Therapy.
What Is Neuromuscular Massage
Neuromuscular Massage is used for soft tissue injuries and chronic pain treatment. It is also called Trigger Point Release Therapy. Its main principle is stimulating specific areas of skeletal muscles which are myofascial trigger points. A Myofascial trigger point is a small hypersensitive area in muscle that can produce pain in another areas of the muscle or a spasm of the entire muscle.
Blood flow decreases when a muscle spasms, and that causes lack of oxygen and an accumulation of lactic acid, which finally leads to muscle soreness. Massage therapists can locate the trigger points and concentrate pressure on that area to restore blood flow and release pain.
How Neuromuscular Massage Can Help You?
Neuromuscular Massage is used to treat many soft tissue injuries and chronic pain conditions including headaches, pain in the lower back, the neck, arms and limbs.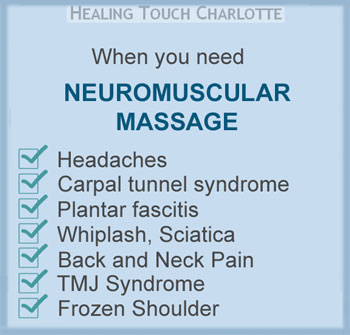 Conditions Neuromuscular Massage Can Relieve
Sciatica, Whiplash
Headaches
Neck & back pain
Carpal tunnel syndrome
Runner's knee
What Else You Should Know About Neuromuscular Massage?
Neuromuscular Massage can be painful at first. Always discuss with your massage therapist if you feel there is too much or too little pressure applied.
During a Neuromuscular Massage session the massage therapist can sometimes use a little wooden device called a T-bar to apply additional pressure.
Why Neuromuscular Massage at Healing Touch Charlotte?
Our massage therapists are experienced to use Neuromuscular Massage for many conditions and disorders. We have successfully worked on many patients who have suffered from pain related to Temporomandibular Joint Syndrome. Most patients get almost immediate relief after the first session of Neuromuscular Massage.
Here you can read more about Neuromuscular Massage for TMJ relief.
How To Get Neuromuscular Massage at Healing Touch Charlotte?
We are happy to see you Monday – Friday 9:00 am – 8:00 pm.
Please give us a call at (704) 996-1460 or click

to schedule you appointment
Prices for Neuromuscular Massage at Healing Touch Charlotte massage center
1/2 hour – $50
1 hour – $90
1 1/2 hour – $125