At our office located in Charlotte, we offer many different types of massage, ranging from Deep Tissue and Neuromuscular to Medical and Prenatal. We offer a full range of massage modalities.  Let one of our massage therapists treat you to a therapeutic and healing massage.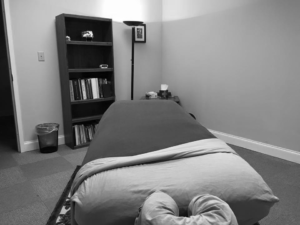 Deep Tissue Massage
A full body massage that deeply manipulates the muscles and the connective tissue called fascia. A massage therapist uses fingers, hands, and elbows to break up the tension in muscles. This modality can be a little painful, but it gets out the "kinks" & aches caused by stress and physical activity. Read More about Deep Tissue Massage »
Medical Massage
A deep,usually localized type of massage used for rehabilitation of muscles, ligaments and tendons after an accident (car wreck) or injury (hurt back or neck.) Usually rehabilitation takes 2-4 sessions. Read More about Medical Massage »
Neuromuscular Massage
One of the deepest and sometimes most intense types of massage. This modality is used to help restore the body to its proper position & lessen or eliminate structural imbalances (twisted hip, raised shoulders, etc.) Read More about Neuromuscular Massage »
Prenatal Massage
This type of massage is designed to relax expectant mothers and to relieve pain that is associated with the pregnancy. Prenatal Massage varies in technique according to the needs of expectant mothers and their changing bodies. Read More about Prenatal Massage »
Myofascial Release
A very light, easy technique involving holding and stretching. This modality releases 'stuck' places in the muscles and softens tissue. It also helps to make other types of massage less stressful for the client and easier to perform for the therapist. Read More about Myofascial Release »
Oncology Massage
Oncology Massage refers to massage tailored to the needs of individuals with cancer. This specialized practice requires therapists to be fully educated in, and pay close attention to, the physical and emotional needs of clients in all stages of cancer, including a through understanding of precautions that should be practiced both during and after periods of radiation, chemotherapy, as well as pre – and post surgery.
Research shows that massage has astounding therapeutic value, and that's equally true for its use with cancer patients. Chemotherapy can be a difficult leg of the cancer journey, and clients report that low-impact massage can do wonders to ease their experience.
Please consult with your physician and your massage therapist. All cancer patients can receive touch therapies.
Benefits:
Reduced stress and fatigue
Improved sleep
Reduced nausea
Relief from pain
Reduced anxiety
Hours
Monday – Friday 9:00 am – 8:00 pm
Saturday 9:00 am – 6:00 pm
Closed for lunch 12:00-1:00 pm
Rates
1/2 hour – $40
1 hour – $75
1 1/2 hour – $110
2 hour- $150