Swedish Massage | Deep Tissue Massage | Medical Massage |Neuromuscular Massage | Prenatal Massage | Myofascial Release
Professional massage therapists at Healing Touch Charlotte practice Myofascial Release Therapy as a single massage approach as well as a preparation for other types of massage to make them less stressful for the client.
What Is Myofascial Release Therapy?
The Myofascial Release Therapy is a very light, easy massage technique used to release 'stuck' places in the muscles. Myofascial Release Therapy has been used successfully for over a hundred years to treat pain and restriction of motion.
Myofascia is a connective tissue surrounding and protecting muscles, bones, tendons and ligaments. It resembles a spider web wrapping the body from the top to the toes. Normally fascia is very flexible, relaxed, and soft; it can stretch and move without restriction. Physical traumas or inflammation make fascia tight and less flexible which eventually leads to pain and restriction of motion.
During a Myofascial Release session a massage therapist applies gentle pressure onto the fascial connective tissue restrictions to relieve pain and restore motion. The sustained pressure allows the fascia to elongate and restore to its normal length.
How Myofascial Release Therapy Can Help You?
Myofascia damaged after trauma, injury or inflammation can cause a number of problems such chronic pain in the back, the shoulders, and the neck; headaches, muscle pain and spasms. Some patients accept Myofascial Release Therapy to improve posture, increase flexibility, and restore restricted motion in any part of the body.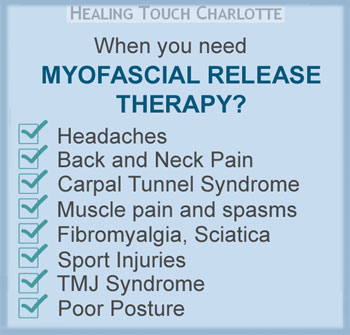 Conditions Myofascial Release Therapy Can Relieve
There are many conditions and symptoms that Myofascial Release Therapy can relieve
Headaches
Muscle pain and spasms
Chronic back, neck, and shoulders pain
Neck stiffness
Poor posture, restriction of motion, low flexibility
Sports injuries
Carpal Tunnel Syndrome
Fibromyalgia
The benefits you get after using Myofascial Release Therapy:
Chronic pain relief
Muscle spasms and tension reduction
Joint movement improvement
Feeling of relaxed, flexible, and healthy body
What Else You Should Know About Myofascial Release Therapy?
The pressure from Myofascial Release Therapy can range from very gentle to deeper but should never hurt. Always give feedback to your massage therapist during the Myofascial Release session.
Myofascial network spreads throughout the whole body and tension in Myofascia in one area of the body can cause pain in other areas. That's why your Myofascial Release therapist may work on the lower back to relieve Myofascial tension in the neck, which in turn can cause headaches you suffer from.
You should notice a change in your condition after a Myofascial Release Therapy session and discuss it with your massage therapist to adjust your treatment plan.
How To Get Myofascial Release Therapy at Healing Touch Charlotte?
We are happy to see you Monday – Friday 9:00 am – 8:00 pm.
Please give us a call at (704) 996-1460 or click

to schedule you appointment
Prices for Myofascial Release Therapy at Healing Touch Charlotte massage center
1/2 hour – $50
1 hour – $90
1 1/2 hour – $125