Swedish Massage | Deep Tissue Massage | Medical Massage |Neuromuscular Massage | Prenatal Massage | Myofascial Release
At Healing Touch Charlotte, Inc. professional massage therapists successfully practice Medical Massage.
What Is Medical Massage?
Medical Massage is not a specific technique but a therapy prescribed by a physician as an additional or main treatment for several conditions. Despite this, insurance still does not cover Massage Therapy in most states, including North Carolina. Medical massage therapists must have a strong background in pathology, disease, and injury to be able to utilize specific massage techniques related to various medical conditions. Medical massage involves manipulation of soft tissues like skin, muscles and connective tissues.
In the 19th century professor Silas Weir Mitchell, a neurologist in Philadelphia, PA, was the first to bring massage to the attention of the US Medical Community. In the end of 20th The American Medical Massage Association has helped medical massage to grow in popularity as a medical procedure.
How Medical Massage Can Help You?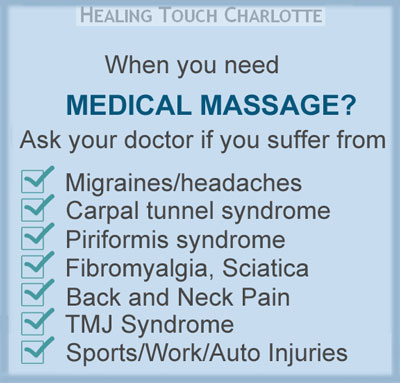 Medical massage can be prescribed to help with many conditions:
Carpal tunnel syndrome
Piriformis syndrome
Migraines/headaches
Fibromyalgia
Back and Neck pain
Muscle cramps
Sports injuries
Work Injuries
Auto Injuries
Why Medical Massage at Healing Touch Charlotte?
Massage therapists at Healing Touch Charlotte are licensed and experienced to help patients for rehabilitation of muscles, ligaments and tendons after an accident or injury. Usually rehabilitation takes 2-4 sessions but may vary.
How To Get Medical Massage at Healing Touch Charlotte?
We are happy to see you Monday – Friday 9:00 am – 8:00 pm.
Please give us a call at (704) 996-1460 or click

to schedule you appointment
To get an early start on your massage you can download Healing Touch Charlotte's intake forms, and bring the completed form to your massage appointment.
Prices for Medical Massage at Healing Touch Charlotte massage center
1/2 hour – $50
1 hour – $90
1 1/2 hour – $125
You can also download a Printed List of Our Prices & Services for a Massage