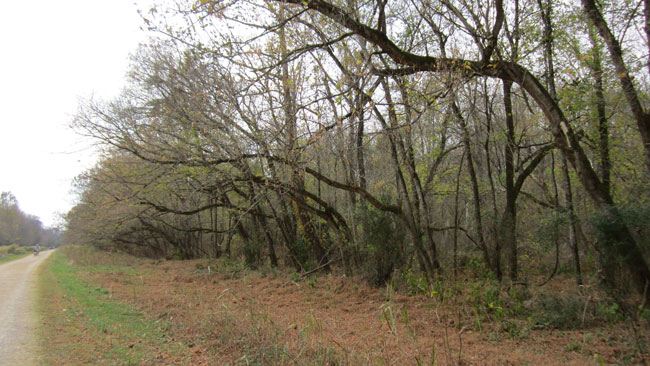 You may have heard that one of Charlotte's most popular greenways – McAlpine Greenway Park –  will be closed due to construction for two years beginning 2013.
Since this is one of my wife's favorite parks, we went to walk along its paths and take a few photographs this last Sunday, November 4.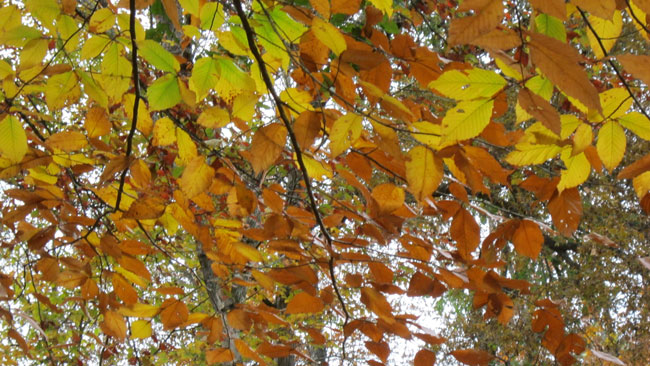 It was a lovely fall day – there were still leaves on many of the trees, and it was a Charlotte fall day, so it wasn't too cold.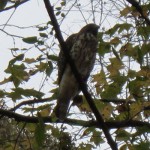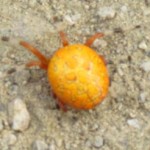 We saw some wildlife, the most impressive being a hawk — a kestrel.
As we started back to our car, we came across some women who were staring down at their feet, transfixed. They looked up and said, "Look at this odd spider!"
And it was odd — and orange yellow, too! I have no idea what kind of spider  it is.
My wife and I will both miss this greenway in the coming two years. We'll also miss the gravel path, which will be paved for bicycle and wheelchair use. My wife said the park is "coming full circle" — the path originally had been paved in 1979 when she first moved to Charlotte. She and her friends used to roller skate year-round until sometime later (late 1980s?) when the asphalt was replaced by the gravel pathway. "Perhaps I'll skate here again in 2014," she said. I, however, will be content only to watch.
In the meantime, the park will be watched over by the hawk and the spider.