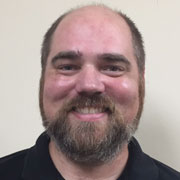 I have been a licensed massage therapist since 2010. I studied at Miami Jacobs Career College in Dayton, OH and started my career there. In 2012 I relocated down to the Carolinas and have been refining and adding to my craft ever since.
I have certifications in Massage Therapy,  Myoskeletal Alignment, and Thai Massage. I also have familiarity and  continued interest in learning anything and everything I can about massage including Myofascial Release, NMT, ART, Craniosacral, Reiki, etc.
My goal is to use what I've learned and will learn to help facilitate healing and balancing for clients in need of such.
Certifications:
Massage Therapy
Myoskeletal Alignment
Thai Massage