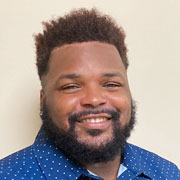 Hello, my name is Isaiah and I am a licensed massage therapist and stretch therapist.
I became a massage therapist because I have heart for helping people and my love language is touch. Leading me to be a natural healer. I approach Massage therapy in two different ways. There's a clinical approach and a therapeutic approach. I utilize both of these to give the client an amazing experience as well as treating them for various things for the purpose of healing. I have always been interested in traditional healing practices and how the body works. Coming out of massage therapy school, I worked in a chiropractic setting and then a year later I transferred to a spa setting. Combining the experience I gained from both of those settings, I found that I enjoy helping people relax and working through the wear and tear life can have on our bodies.
Prior to my massage career, I got a bachelors degree in Human Services with a minor in communication. I have been practicing massage for almost 3 years now and I love everything I've learned about bodywork.
My mission statement is: to leave people better than when they came in so they can go out into the world and be great.
Deep Tissue Massage
Sports Massage
Stretch therapy
Trigger Point massage
Swedish Massage
Hot Stone Massage