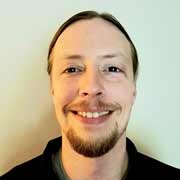 Hello, my name is Brian. I am happy to be a part of the Healing Touch Charlotte team and I look forward to helping my clients feel their best.
I have been licensed since January 2021, and have been working avidly on honing my skill set in massage since 2020. I attended the NC School of
Advanced Bodywork here in Charlotte, which is highly focused on anatomy and kinesiology. This has given me the understanding one needs to have when working with clients who are in pain or have limited range of motion.
Using various modalities such as Structural Integration, Myofascial Release, Deep Tissue, and Neuromuscular Therapy; I will target the sources of pain or tension and work with my clients to relieve any issues through bodywork.
My goal as a therapist is to always keep learning so that I can better help, and develop a treatment plan that shows results for my clients. I look forward to working with you!
• Myofascial Release
• Deep Tissue
• Neuromuscular Therapy
• Structural Integration